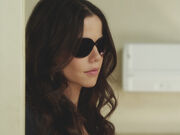 Life Is Made Of Glass
is the sixth episode of Season 1.
A mysterious figure sets fire to Jenna's house. Someone saves her from the fire, and when The Liars hear about it and check on Jenna and her house, she is convinced that she was saved by CeCe Drake. The fire then causes her to lose her eyesight.
The creators of the show have tweeted that the figure that set fire to Jenna's house was not a member of the C-Team.
Ad blocker interference detected!
Wikia is a free-to-use site that makes money from advertising. We have a modified experience for viewers using ad blockers

Wikia is not accessible if you've made further modifications. Remove the custom ad blocker rule(s) and the page will load as expected.