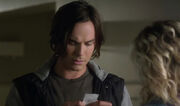 The Lying Game
is the fourth episode of Season 1: The Shadow Diaries.
The police start questioning The Liars about CeCe's death.
Meanwhile, Josh starts to remember some parts of his travel to the forest.
Ad blocker interference detected!
Wikia is a free-to-use site that makes money from advertising. We have a modified experience for viewers using ad blockers

Wikia is not accessible if you've made further modifications. Remove the custom ad blocker rule(s) and the page will load as expected.