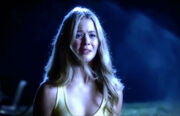 To The Grave 
is the first episode of Season 1 and the series.
CeCe, Sam, Mona, Clara and Josh have a night out at CeCe's barn, and the next day she appears to be missing. A month later, the rest of the gang finds her dead in a parking lot, and the 'C' messages begin.
This is the first episode of the series.
Ad blocker interference detected!
Wikia is a free-to-use site that makes money from advertising. We have a modified experience for viewers using ad blockers

Wikia is not accessible if you've made further modifications. Remove the custom ad blocker rule(s) and the page will load as expected.